Make money on your own terms with the Grubhub for Drivers app
The Grubhub for Drivers app makes it easy for you to enjoy the best of the Grubhub delivery experience, like getting paid quickly and creating your own delivery schedule.
At every step of the delivery journey, the Drivers app helps you succeed
Before you start delivering
Deliver whenever you want
Whether it's early in the morning, after work or at night, you can deliver whenever you want. Just toggle to Taking offers in the app to become available for receiving offers!
Create a delivery schedule that works for you
With Grubhub's in-app block scheduling, you can select blocks of time when you're available to deliver. Or, set your availability and we'll create a delivery schedule based on the blocks you selected.
Pro tip: delivery drivers who use block scheduling can get more offers and make more money!
When you're hitting the road
Find busy areas to deliver in
With Hotspots, you can see the busiest areas in your delivery market. Navigating to Hotspots gives you more chances to accept offers that maximize your time and earnings.
Earn extra cash with Missions
Boost your pay by completing Missions—exciting ways to earn extra cash by completing available challenges.* Choose from different types of Missions and track your progress in the Earnings tab of the app.
*All special offers are subject to specific markets and time periods.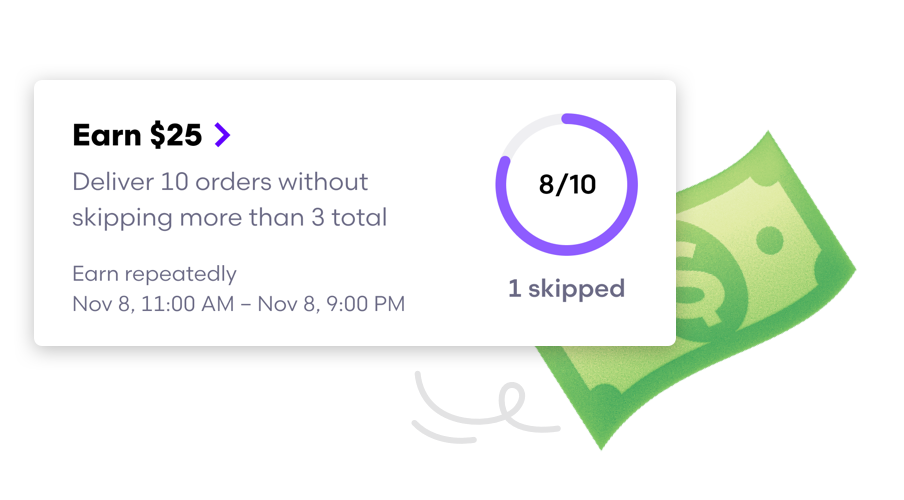 View estimated mileage on all delivery offers
With estimated total mileage through the app, you can view the distance from your location to the restaurant, and from the restaurant to the customer—helping you to manage your time and accept the offers that fit into your schedule.
When you're ready to get paid
Cash out your earnings immediately with Grubhub Instant Cashout, and make every day payday.
Cash out your available earnings directly from the app into your bank account. Chase Bank customers can cash out whenever they want with zero Instant Cashout fees, and all other bank customers can cash out for a low transaction fee of 50 cents.
You can also cash out your available earnings directly to your Mastercard or Visa debit card for a low transaction fee of 50 cents.